Jim Bennett, 1947-2011

Words and photos of remembrance from his friends and family



Bennett and McGrath share a few thoughts during playback at a recording session in Middleborough, MA, mid-February, 2009, for the production of "Last of The Romantics."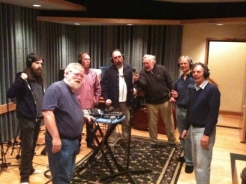 In March, 2009, Mr. Bennett led a lusty chorus of backup singers during production for Jim McGrath's CD, "Last of the Romantics," on which Bennett acted as associate producer and multi-instrumental accompanist.


Jim returned to Jock O'Sullivan's in New Haven in April, 2010, as part of Wepecket Island Records' Rolling Roots Revue. The New Viper Revue, of which Jim was a founding member, played there on Thursdays in 1974. Nice home-coming, with Bertie and Marianne in attendance. McGrath was there, as well, and the two Jims were joined by Jerry Malone for a few tunes.


(left) Working on Jim McGrath's recording, "Last of the Romantics," January 19, 2009. Bennett added guitar, banjo and mandolin accompaniments to McGrath's tunes in this session at Sounds Interesting Studios in Middleborough, MA.
(right) With McGrath and Don Barry at the release party for "Last of the Romantics." This was at the Black Watch Pub in New Bedford on Bastille Day, 2009. Mr. Bennett said, "The fish 'n' chips are excellent!"
Playing mandolin at a workshop, Taunton River Festival, 2008 (left). Jim contributed musically and financially to making this festival of traditional American music happen. Below: At Jock O'Sullivan's, New Haven, in April, 2009, joined by Jerry Malone and Jim McGrath.


Mr. Bennett leads the Reprobates in a rousing version of "Waltzing With Bears" at their reunion show at Mahogany Shoals on Block Island in 2007.